Thanks to Lala of Kulinarya Cooking Club, who came up with another challenging theme of Decadent Food. My dish for April is Calamansi Lime Pie, made creamy by the surprise ingredient, condensed milk. The sweet, tart and creamy combination makes you crave for another slice. The recipe is adapted from Jeanne Kelley's wonderful cookbook, Blue Eggs and Yellow Tomatoes.
Calamansi Lime Pie with Blueberry Compote
1 prepared 9-inch pie crust
1 (14-ounce can) sweetened condensed milk
3/4 cup freshly squeezed calamansi limes
(or regular limes)
1 teaspoon lime zest, finely grated
2 eggs
16 ounces fresh blueberries
1/2 cup sugar
Preheat the oven to 175 degrees C.
Mix together the condensed milk, lime juice, and zest until well blended. In a separate bowl, whisk the eggs and pour into the condensed milk mixture, mixing thoroughly. Pour into the prepared pie crust and bake until filling is set, about 20 minutes.
Remove from oven and let cool completely. Chill in the refrigerator while making the compote.
Place blueberries and sugar in a saucepan and let simmer over medium heat for about 15 minutes. The mixture will thicken and reduce. Set aside to cool. Spoon over the pie slices and serve with whipped cream or creme fraiche, if desired.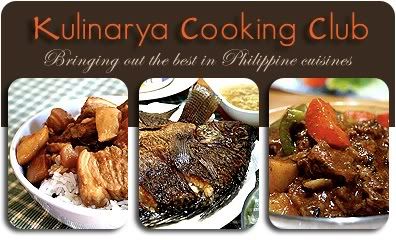 Kulinarya Cooking Club was started by a group of Filipino foodies living in Sydney who are passionate about the Filipino culture and its colourful cuisine.
Each month we will showcase a new dish along with their family recipes. By sharing these recipes, we hope you find the same passion and love for Filipino food as we do.
If you're interested in joining our Kulinarya Cooking Club, please feel free to drop by our foodblogs and leave a comment. We would love to hear from you!